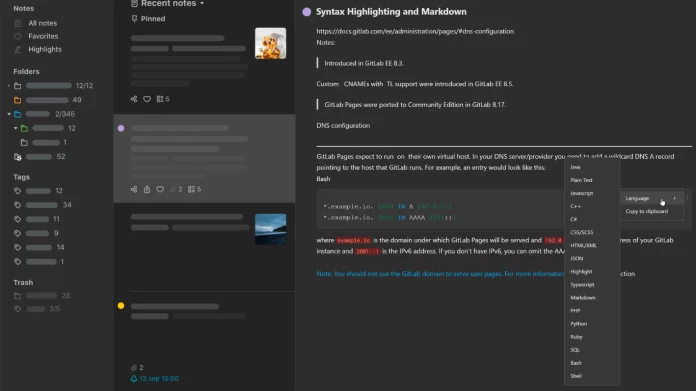 I've have been using Nimbus Note for over 6 months, and am extremely pleased with my purchase. Here is my review of Nimbus Note. I have never been more organised, and by utilising some of Nimbus Note's ready-made templates I am able to get work done faster avoid stressing about designing a template myself, – All I do is just add my company's branding and tada.
Nimbus Note aims to transform our everyday information chaos from multiple sources into an organised workspace and empower us or our teams to get things done faster with less iterations and, and fewer meetings. That's what most note-taking and collaboration software teams have been promising us. So does Nimbus Note live up to the hype?
Pricing
Nimbus Note has four subscription pricing options. A starter starter plan, which is free for one to 3 members. A pro subscription for 1 – 5 members which goes for around R600.00 annually. Pro is great for the individual or a small startup team, but lacks some features that makes Nimbus Note a truly beneficial productivity tool.
A business / teams subscription, the one I'm currently on, which costs around R1000.00 annually for 5 members, and the cost will increase should you require more members. Lastly a custom plan for large teams and organisations is also available suitable for enterprises which have more than 55 members.
Nimbus Note's pricing model is determined by a multitude of features. Of which the key features are the maximum attachment size for files that you would like to upload to Nimbus Note, the amount of team members, you would like to be able to collaborate with, the amount of workspaces, ocr, and the option of going whitleable through adding a custom domain, a client portal or adding your own logo and branding.
Compared to Evernote, which also has a basic free plan, Everonte's premium plan will cost you R650.00 annually, while Evernote for business will set you back R1200.00 annually per user. All-in-all, Nimbus Note takes the win where pricing is concerned.
Team
Nimbus Note is led by Nimbus Web CEO Pavel Shcherbakov and a team of developers based out of Cleveland, Ohio. Pavel Shcherbakov founded Nimbus Web Inc. in 2014 after moving from Uzbekistan to the United States. Pavel and a team of early developers managed to 100 percent bootstrap Nimbus Web and build products which have amassed several millions of users.
Nimbus Web's ability to continuously innovate lies in their persistence to constantly improve internal processes and also to use their own products to stay productive and organised.
Use cases
Nimbus Note has many use cases and is ideal for customer support, development and engineering teams, education students, teachers, human resources and recruiting, as a knowledge repository or wiki, marketing, sales, a place to organise your team and all your ideas, personal use, product development, researching and brainstorming, remote teams and ultimately, all things business-related.
How i'm using it is as a hub for digital asset management, organising all my notes in their respective workspaces, and maintaining roadmaps and sprint plans for my company.
What I find great is the ability to switch between a personal environment and an en environment for my companies, all which I can create and manage multiple workspaces within while collaborating in real time with my team.
Support
Support has been surprisingly better than expected from a saas company. Immediately after signing up I was invited to watch a webinar to learn all the key features of Nimbus Note, and not long thereafter I produced my first notes and started organising my notes through Nimbus Note's amazing folder system.
Additionally I was invited to Nimbus Note's private Facebook group where I could interact with fellow business owners and note-takes from all walks of life.
Lastly, The CEO shows his love for the community and users of their products by sending a welcome email to all new users, and ensuring that he will be there should we ever need to get in touch with him.
Standout Features
Nimbus Note boasts a plethora of features, to many to include them all in this review. However I'll give you the rundown of some of the awesome features and those that really stand out. Firstly, Nimbus Note allows us to take notes, create, upload, or scan documents in, create lists, spreadsheets, tasks, databases, spreadsheets and tables.
Secondly we are able to easily share these items with others, whether it be a manager, fellow team member or a guest, of which you can create individual password protected documents for.
Next you can capture and annotate videos or clip anything from the world wide webs. My favourite feature is definitely the various types of items one can embed into a note. Specifically, code, and it highlights the syntax too! Amazing.
Final Thoughts
I first stumbled across Nimbus Note after a promotional email from AppSumo. Knowing that I take a lot of notes, and that I excel when I am organised, I decided to look into Nimbus Note. After learning about all the awesome features and reading customer reviews and testimonials I decided to purchase Nimbus Note.
There was also a money-back guarantee, so should I not have been satisfied, I could have recovered my investment.
So many features that I have not even tried them all. Those that I have, definitely have taken my note-taking game to the next level.
The ability to mention notes and folders or create internal links with ease allow you to build a database of information and improve your or your businesses' knowledge, all while using a beautifully designed user interface, whether it be on your desktop, the Nimbus Note web app, your own custom domain or the Nimbus Note mobile app.
I am impressed and happy to say that Nimbus Note is one of my best productivity-focused purchases to date and I definitely recommend anyone who is serious about empowering themselves or their team to give Nimbus Note a shot. You won't be disappointed. Thank you Nimbus Note for making an awesome product!
Where to get Nimbus Note?
You can try Nimbus Note 100% for free by heading over to their website: https://nimbusweb.me/. To view available pricing options, check out their various subscription options on their pricing page https://nimbusweb.me/pricing-sale.php. Special plans for schools and districts are available too.