Ovex is a South Africa headquartered cryptocurrency exchange that claims to have traded over $6 billion U.S. since going live and maintains a $500+ million trading volume over a 30-day period.
According to their website, OVEX offers clients tight spreads, fast settlement and elevated care and attention to detail through 'white glove service'.
We spent some time interacting with their crypto exchange to give you an overview of the company, the trading experience, security, fees, standout features, shortfalls and our overall conclusive opinion on whether or not you should be be trading with OVEX.
Warning! Investing in digital assets is highly risky and speculative. A qualified professional should always be consulted before making any financial decisions. Buying and trading cryptocurrencies should be considered a high-risk activity. Please do your own diligence before making any investment decisions. The Frontline is not accountable, directly or indirectly, for any damage or loss incurred, alleged or otherwise, in connection to the use or reliance of any content you read on the site.
About OVEX
Like most crypto-focused projects, OVEX positions itself behind the assumption that digital assets are the Future of Finance. Ovex's mission is:
"To build an open, trustless and more efficient system"
To achieve their mission to decentralize finance, their team consist of software and financial engineers with a culture of execution in order to move fast and roll out new products and features regularly.
OVEX's office is at Cape Town's well-known Portside Tower.
Trading
OVEX makes use of a Request for Quote (RfQ) interface to execute trades. This is similar to a swap feature where you would swap one coin or fiat currency for another. Currently, the main markets include ZAR, USDT, TUSD, and BTC.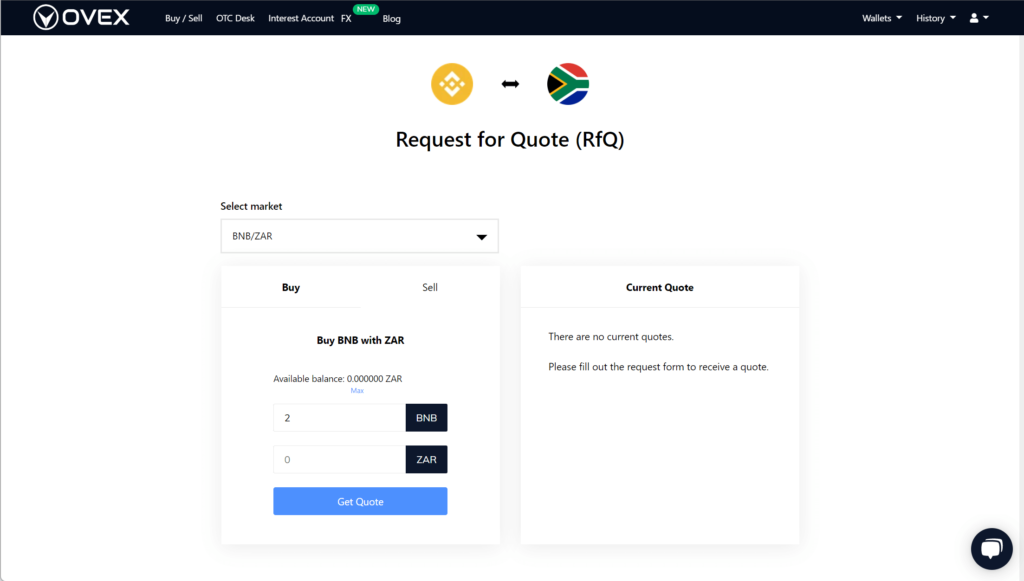 In the RfQ once you've selected the market, you can then select how much you'd like to trade. Once you've requested the quote and a match is made, the trade can then be executed.
In your account you can navigate to your portfolio to view your balanced, deposit or withdraw funds or view your order, deposit and withdrawal history.
Security
With regards to platform security, OVEX allows users to setup two-factor or 2fa authentication for your account through the use of an Authenticator app.
In addition to 2fa, you can also create an 8-character anti-fishing code for your account which will appear in all private emails you receive from OVEX.
Fees
When depositing funds, you will be able to do a manual bank transfer through EFT to OVEX's Standard Bank account or link the following banks:
Nedbank
Capitec
ABSA
Standard Bank
FNB
There are no deposit fees, and OTC desk trades are variable.
OVEX has the following withdrawal limits set:
Level 1: R0
Level 2: R5000
Level 3: R50m
Level 4: Unlimited
Each coin or currency has a withdrawal fee, the list can be found here.
Standout Features
OVEX has an Over-the Counter or OTC desk which offers trading that takes place off the open OVEX exchange order books. This enables high net-worth individuals and institutions a more secure and personalized service. The minimum order size is $20,000 or roughly around R340,000 at the time of writing.
Next, OVEX offers uses the ability to open an OVEX Interest account which allows you to earn up to 8.5% annualized interest on certain cryptocurrencies and where interest is paid out on a daily basis at 5pm. This is a great way to earn income on your crypto holdings. See below for the available asset types and potential annual interest rates: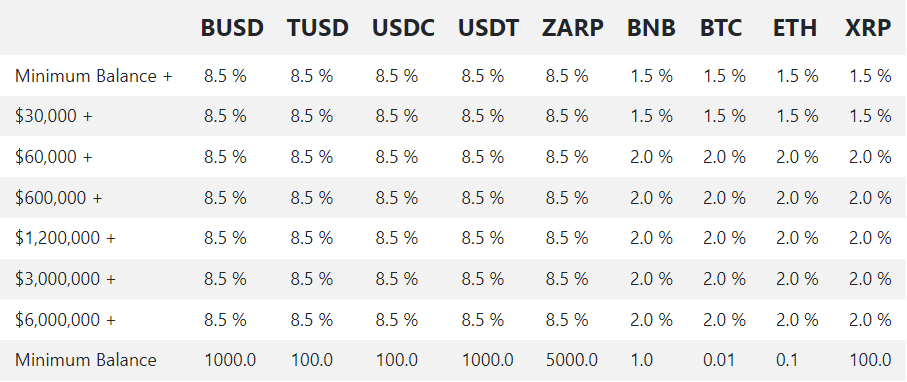 If you're a developer or comfortable with programming, OVEX offers full API access to your account allowing you to use data to trade programmatically. There is a Postman collection and API documentation available with WebSocket API in the works.
Shortfalls
At the time of writing this review, OVEX does not have a mobile app available for Android or Apple users. This forces traders to have to log visit their website.
OVEX also has a blog where you can stay up-to-date with market news and platform features, however the blog has not yet been updated since October 2022, and lacks the educational in-depth guides that other platforms like Luno makes available to its users.
Lastly their support page through Zendesk no longer exists which leaves you with the only option of emailing or phoning them.
Conclusion
To conclude, OVEX is a great crypto trading platform for high-net individuals or intuitions who trade in large volumes or who need hands on service and dedicated privacy. For the average retail crypto trader, the exchange lacks an insightful interface and key data such as the orderbook or volume being traded.
Then OVEX does not have a mobile app requiring you to access your portfolio on the web, and when compared to other crypto exchanges in South Africa, OVEX is the only one without an app.
OVEX, although have some unique product offerings in the market and cryptocurrencies which aren't available on other platforms, falls behind other crypto exchanges which have easy-to-navigate and understand user interfaces paired with insightful data required to make informed trades as well as provides the learning materials for new users so that they aren't overwhelmed in this space.
Nevertheless, OVEX has potential and with a better trading experience and mobile app can compete with the best crypto exchanges in South Africa.