Affiliate.co.za promises to boost advertisers' online sale numbers and to enable affiliates to monetize their web traffic.
Affiliate.co.za positions themselves as a "Premium Network To Achieve Premium Results". Affiliate.co.za has some of the highest paying offers in South Africa from well-known brands.
Here's our review of Affiliate.co.za, the good and the bad.
Pros and Cons
Pros
Over 30 offers to promote
High commision rates
Fast and easy to join the network
Flexible business models
Real-time performance reporting
Mobile App
Cons
Poor variety of of product service types to promote
Primarily local offers
Poor creatives for affiliates
Little information about company and the team behind it
Key Takeaways
Lots of good high paying local offers
Great dashboard experience
Not the best promotional materials
Use Affiliate.co.za the mobile app on the go
About Affiliate.co.za
Year Founded: 2013
Official Website: https://www.affiliate.co.za/
Offers Available: 30+ Affiliate Programs
Customer Support: Account Manager by: Email, Phone, and Skype
Pros Explained
Over 30 offers to promote: With over 30 offers to promote and high payouts – you are spoiled for choice. It must beted that some of the better offers require approval by your account manager before you can run them.
So if you're new to affiliate marketing you might not be able to access all the offers just yet, however if your affiliate marketing efforts drive results, you'll easily be accepted to any offer which requires approval.
Majority of the offers are finance and insurance related, and then there are a few online stores too.
High commission rates: Earn up to R240.00 CPA (cost per acquisition) and more than 40% CPS (cost per sale) with Affiliate.co.za's offers. Affiliate.co.za has the highest commission rates out of all the affiliate networks in South Africa.
Fast and easy to join the network: Fast and simple signup process which allows you to get immediate access to offers. There is also no need to submit any website's for approval.
Flexible business models: Affiliate.co.za primarily only has CP(cost per acquisition) and CPS (cost per sale) offers.
These offers can be marketed via provided unique affiliate links, banner advertisements, and email marketing templates.
Another advantage of Using Affiliate.co.za is API offers. API offers allow you to for example run an offer on your website, and have the lead capturing process happen on your site, rather than losing traffic.
For example, a loan widget which allows users to choose a limit and request more information or apply right there and then.
Real-time performance reporting: Affiliate.co.za makes use of real-time reporting on your performance through a Performance Report Dashboard, a Conversion Report Dashboard, and a Referral Report Dashboard.
Additionally we can also save reports for future reference, or download reports in CSV format. The dashboards also have great filtering options.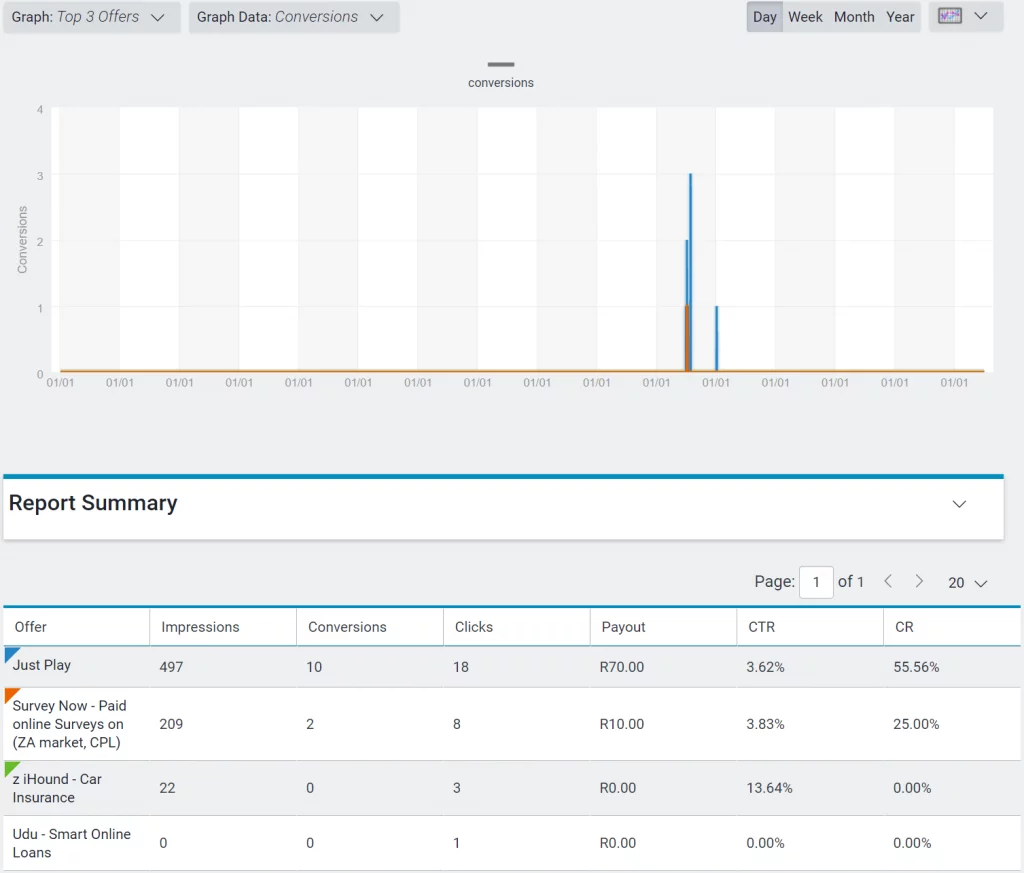 Mobile App: Because Affiliate.co.za makes use of the Tune Marketing Affiliate Management Platform, they are able to offer affiliate marketers a mobile app to track performance and manage offers on the go.
Cons Explained
Poor variety of product service types to promote: Offers are primarily finance and insurance related, with a few online stores which are mostly clothing stores.
Primarily local offers: If you have an international audience, Affiliate.co.za might not be for you. Nearly all offers are geared towards a South African target market.
If you are a local publisher or performance marketer, Affiliate.co.za is your best bet for getting started with affiliate marketing and boasts high payouts.
Poor creatives for affiliates: There aren't always the best banner sizes to use on your website, and in many cases banner advertisements are showing outdated sales promotions.
So if you do choose Affiliate.co.za, be sure to always be using the latest banners. Some offers have email marketing templates which are useful too.
Little information about the company and the team behind it: Affiliate.co.za does not come across as transparent when first looking in at their website.
Instead they leverage testimonials from one of their advertisers and one of a South African personality, Euphonik.
Affiliate.co.za can do more to showcase the people behind the company. When working with Affiliate.co.za you'll primarily only be in contact with your Account Manager.
Introduction
Affiliate.co.za is operated by ReturnX, a performance marketing firm that offers consumer market research and performance based online customer acquisition based on measurable deliverables such as CPL (cost per lead) and CPA (cost per acquisition).
Company Overview
There is not much info on Affiliate.co.za or their team members on their site other than where they are based, which is in Sandton, Johannesburg, South Africa and a Career's page listing open vacancies.
Offers Available on Affiliate.co.za
Affiliate.co.za has more than 30 affiliate programs for publishers to choose from and regularly add new ones.
One great thing that stands out about Affiliate.co.za versus other affiliate networks in South Africa – is their long-standing offers.
This makes it easier for affiliates to run offers without having to constantly search for and change offers every few weeks or months.
Some of the affiliate programs available on Affiliate.co.za are: King Price Insurance, Wantitall, Justplay, Clientele Life, Etihad Airways, and Uber Eats.
Dashboard Experience
Affiliate.co.za has a great admin dashboard for performance marketers. They use the same technology as larger affiliate networks like Affiliaxe. Offers are easy to navigate and work with, while the account structure is organized and easy to understand.
There are some really useful tools, such as APIs, Pixel and Post Back tracking to manage third-party conversion tracking, and ad groups which allow you to serve multiple offers with one simple piece of code on your website.
Payout Limits
Affiliate.co.za issues NET20 payments to all affiliates with a minimum payment threshold of R250 for South Africa Affiliates. Affiliate.co.za also offers bonus schemes – you will need to contact your account manager for further details.
Opening An Account
Signing up with Affiliate.co.za is fast and easy. You'll be asked to provide some basic  contact information along with your address and skype information.
Account Management
Each account has an account manager, who can be contacted by Email, Phone, and Skype. Additionally there is also a general support email which one can reach out to
Other Features You Should Know
If you have a website, their API offers are a must have. It improves your site's user experience while allowing you to monetize your content.
Make Extra Money
Affiliate has its own referral program. You have a referral link you can use to refer new affiliates to the network and will receive a commission for each referral.
Is Affiliate.co.za Right For You?
For performance marketers and publishers: Earn high commissions from well-known brand in South Africa. Sign up as an affiliate with Affiliate.co.za.
For Advertisers: Partner with a company that allows you to promote your business via publishers and performance marketers through CPC (cost per click), CPA (cost per acquisition), and CPS (cost per sale) campaigns. Sign up as an Advertiser with Affiliate.co.za.
Check out our other Affiliate Network Reviews: