Becoming a YouTuber allows you to create content and monetize your content via Google's AdSense program among other potential digital income streams.
Let's explore what South African creators on YouTube are earning and the amount of views those videos received. After all, your earnings potential is directly correlated to the amount of views you can generate. More views = more money.
Last year, Forbes released a report on the highest earning youtubers for 2021. And on top of that list was Mr Beast, who raked in $54 million U.S. In South African Rands, that equates to over R1 Billion Rand at today's exchange rate.
Mr Beast has also amassed over 170 million Subscribers becoming the second most subscribed to channel at the time of writing.
While Mr Beast is an American YouTuber, his audience is global, and that is key to the success for many YouTubers. So, being a South African you are able to compete and entertain audiences worldwide and earn a full-time income, if you put in the work.
While I can estimate fairly accurately how much any South African YouTuber is earning thanks to publicly available tools, (More on this later), I've decided to only report on a few select South African YouTubers who have publicly shared insight into how much they're earning on YouTube.
I have also added their subscriber counts and embedded their YouTube videos below so you can hear it from them too. Lastly, show some love and support our fellow South African creators by subscribing to their channels.
Examples of how much your favourite South African Youtubers are Earning
Marshall Malaba
Subscribers: 65k
Marshall Malaba creates videos on topics relating to side hustles and earning income online. Between January 2021 and May 2023, Marshall was able to around R260,000 from 1.7 million views and a total of 120,000 watch time of videos.
Subscribe to Marshall Malaba's YouTube Channel
RICH Photography
Subscribers: 35k
In this video, Rich Photography does a comparison on two of their best performing videos in terms of views and their respective earnings. This comparison is really insightful through showing a video with less views earing more than one with more views.
The first video raked in R7,384 from 404,500 views, while the other earned R9,535 from only 267,600 views. The reason this may occur is due to the topics of the videos and the advertisers bidding for those audiences.
Rich Photography concludes that they were payed R23,000 for 797,000 views resulting in an average earning of R34 per 1000 views.
Subscribe to RICH Photography's YouTube Channel
Mimi Kutu
Subscribers: 11k
Mimi uploaded this video when she was still at 3.8k subscribers. At the time, in her first month of b eligible for the YouTube partner program, she pocketed R1,118.
Mimi also does an amazing job at explaining the process and effort it takes to get monetized on YouTube, especially for new YouTubers.
Subscribe to Mimi Kutu's YouTube Channel
Stef Dev
Subscribers: 4.6k
Stef managed to get one video to go viral and reach over 100,000 viewers. The total earnings for this video with 100k views was R3,500 rand. This equates to around R35 per 1000 views. Which is interestingly close to Rich Photography's earnings of R34 per 1000 views as touched on earlier.
Subscribe to Stef Dev's YouTube Channel
So from South African YouTuber's firsthand accounts, you can expect to earn between R30 and R50 per 1000 views on YouTube. If your Audience is more international and dominant with countries such as the United States and United Kingdom, you can potentially earn even more.
How YouTubers Earn Money
The primary source of income for most YouTubers is Google's Partner Program via AdSense.
These are the annoying skippable and non skippable ads you see every time you're trying to watch a YouTube video.
In addition to these ads, in many cases, display ads are also shown alongside videos. If a viewer clicks on these ads, the channel owner will earn money.
However, in many cases users don't even have to click on an ad, but simply see the ad.
In addition to ads, some eligible channels, are able to gain members who a monthly subscription to the channel owner. Channel members generally get exclusive perks.
The next way Youtubers monetize their content is through affiliate marketing. They join affiliate programs or networks closely related to the category of content they
Sponsorships is also a common income stream online. If you spend a lot of time on YouTube like I do, then I'm sure you've witnessed a YouTuber mention the sponsor of a video.
VPNs, Courses, and Website Builder Tools like Squarespace love to sponsor channels. They pay the channel owner an amount based on the YouTuber's audience size and reach. Additionally, some sponsors also provide a discount to their product and in some instances share revenue from those sales with creators.
Finally merch and other forms of digital products created by the YouTubers themselves can also generate income, however this may require a significant investment of time, effort and capital.
If you want to learn more about ways you monetize your channel, check out our guide on How To Make Money With YouTube.
How to find out any YouTuber's Earnings.
Did you know you can can estimate how much your favourite YouTube earns from Ads?
All you need to do is visit socialblade.com and enter the a YouTube channel username or the channel's URL and Social Blade will give you the estimated Ad Revenue.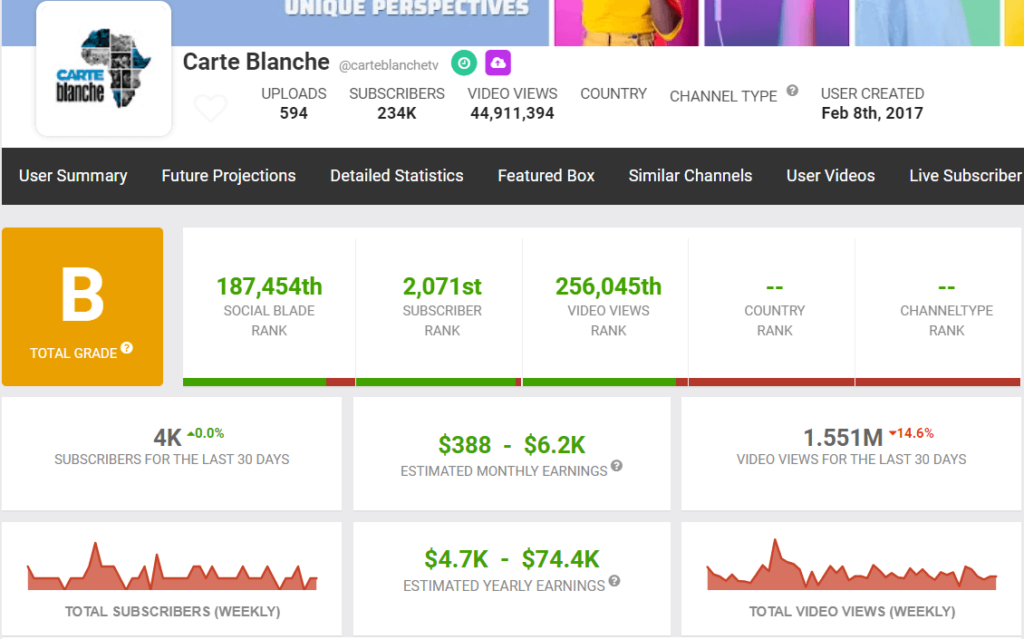 In the example above we entered Carte Blanche's YouTube channel and we can see that their YouTube channel is estimated to be earning between $388 and $6,200 monthly. This equates to around R6,984 to R111,600 in South African Rands. It's safe to assume actual earnings is somewhere in the middle.
Eligibility Requirements For YouTube's Partner Program
To Be eligible to join the YouTube Partner Program to monetize your content with ads, you need 1,000 subscribers and 4,000 public watch hours in the last 12 months or 10m public YouTube Shorts views in the last 90 days.
So start your YouTube channel today. If you have one already, check out our guide on making money with Google AdSense.